So, you're embarking on a new kitchen project, but where to start? Undoubtedly a kitchen is the heart of any home, and with so much information out there it can be an intimidating process to begin. 
Our SieMatic designer Chrissi is on hand to take you through our design process here at My Fathers Heart.
Showroom visit
Our state of the art showroom boasts 6 beautiful functioning displays. A visit will help you understand the quality of our products as well as offer some design inspiration. The first question we will ask is whether you prefer the warm, traditional look of our handmade kitchens; or the sleek contemporary feel of a SieMatic kitchen. Don't worry if you are unsure – we can take you through the merits of both. We will also talk you through other design aspects to consider, such as worktops and appliances.
Bonus if you're able to visit on a Saturday – we are usually found cooking something tasty up in the ovens or on the BORA hob!
Design consultation/survey
This is a chance for you to meet your designer (if you haven't already) and for them to get to know you. We like to sit down over a cup of coffee and have an informal chat about how you would like to use the space along with any wants and needs; you may already be brimming with ideas, or need some extra guidance – both are great in our eyes!
If yours is an existing room, we would take this opportunity to visit you so we can undertake a full survey and get all necessary dimensions of the space. If your new kitchen is part of a larger building project, this meeting will take place in the showroom so we can discuss any architect plans you may have bought along too. At this stage we will also ask how much of the project you would like us to undertake – with trusted contractors covering all disciplines we are happy to co-ordinate the entire project from start to finish, such as flooring, plastering, decorating plumbing and electrics – we will also happily work alongside your own tradesmen should you have any of these aspects covered already.
Initial design presentation
The big reveal! We like to give ourselves around 2 weeks from the design consultation until presentation and appreciate your patience during this time. As we pride ourselves on being a design-led showroom getting the design right is really important to us; we then spend considerable time producing photo-realistic renders and putting together a presentation along with full quotation. For the presentation we will invite you back into the showroom so we can show off our work on the large screen in our presentation area, you will also be able to touch and feel our samples or put together mood boards.
After taking you through the design we will discuss the quotation, which will be broken down into the key aspects of the design e.g. furniture, worktops, appliances etc as well as estimates for any trades you would like us to co-ordinate.
Something not quite right? Want to see another option? Not a problem – I always say designing a kitchen is a process and it usually requires a few tweaks to get it perfect!
Follow-up design presentation
For your follow-up presentation your designer will have made any adjustments we discussed previously and produced a new set of renders, plus re-costed any alternative options. If the layout is approved, we can discuss in detail your choices for colours and finishes and go over your appliance options to ensure the models specified meet all your needs.
If we've ticked all your boxes and you would like to take our design forward, we will ask for payment of a deposit. Changes can still be made but this also allows us to release all images and related drawings for you to take home.
Design confirmation
Any final creases are ironed out and the design is confirmed – generally no further changes can be made. With a SieMatic kitchen I will type up the order and send it to Germany for processing before production and delivery. If you have opted for a handmade kitchen, your designer will produce a full set of drawings that is taken through to the workshop so the talented team can begin making, you are of course welcome to pop in at any point and see the process for yourself!
At this point we will also produce a set of concise mechanical engineering (M&E) drawings for any contractors that will be involved – these will specify things like the position of plumbing, sockets and lighting.
Pre-installation
If you have asked us to co-ordinate the whole project, we will provide you with a 'timetable of works' so you know exactly who is going to be in your home and when. Usually we start with removing & disposal of the existing kitchen. With a blank canvas our electricians and plumber can start their first fix – getting everything in the right position according to our M&E drawings. If necessary, our plasterer will come and make-good any areas that need it, before decorators give the space it's first coat. If you are having new flooring laid this will be done once everyone else is finished (don't worry, we will ensure it is well covered before we start installation!).
Installation
The day is finally here! You start to see your dream kitchen come to life… Our friendly installation team will arrive in the morning and begin to unload the van (all cabinets are pre-assembled, either in our workshop or in the SieMatic factory – no flat pack here!). Depending on the size of your design, our team usually have all cabinets in place within about 3 days. This then allows for our worktop suppliers to come and template the space, who will return around 10-14 days later to fit – if you just can't wait and need to use your kitchen in the meantime, we can fit you with temporary tops.
With all the cabinets in place we will also invite back the electricians and plumber to second fix – this involves connecting and testing all your appliances and sink/tap etc – you are now good to go! Our beautiful handmade kitchens are painstakingly hand-painted, with one coat completed in the workshop and another once it is fitted. All delicate finishing touches, such as handles or glass and mirror splashbacks etc are fitted last – and once complete, this will be the moment you go 'wow'!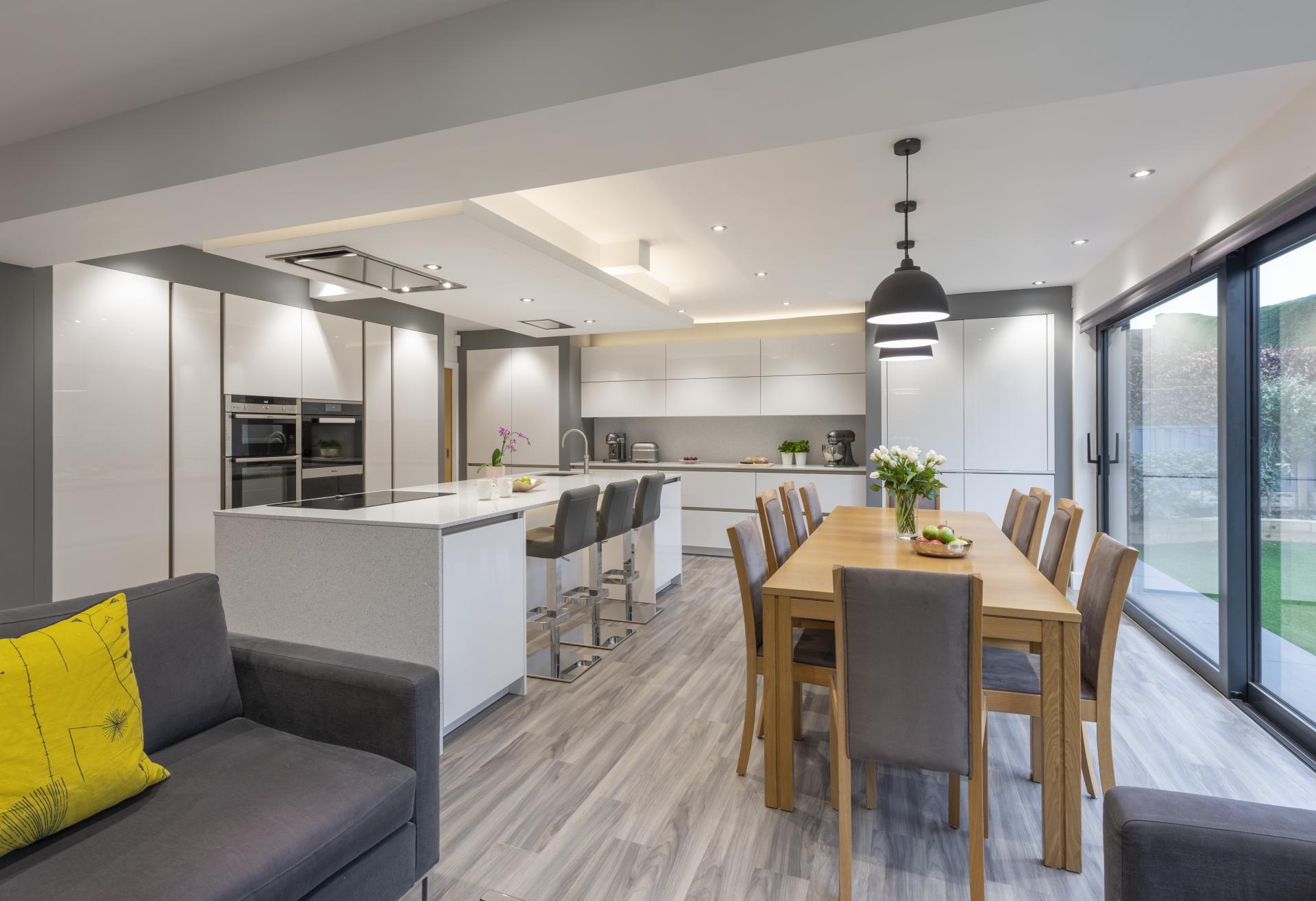 Post-installation
At My Fathers Heart we pride ourselves on our service and will always return to our work until you are completely satisfied. Once worktops are fitted and cabinets have settled, there will undoubtably be doors to adjust and minor snags to address. Make note of anything you notice and pass these onto your designer who will then co-ordinate with the fitting team to ensure a follow-up and subsequent 'sign off' visit is carried out by both.
Once the dust has settled do keep in touch with the team, we love to thank our customers with fantastic and informative events held throughout the year and we will always be on hand should you have any questions. We wish you many happy memories and years of enjoyment in your fabulous new kitchen!
Now to start thinking about that bedroom furniture…