When building their dream home, our clients in Fulwood, Sheffield knew they wanted something special for their remarkable kitchen space.
Only the very best would do to give the kitchen the 'wow' factor. Our talented SieMatic designer Chrissi Batey created their perfect kitchen. Using SieMatic cabinetry, stylish chunky pillars and state-of-the-art appliances like the BORA Tepan plate, Chrissi achieved a design that's practical, sociable and makes the best use of the large, double-height open-plan space.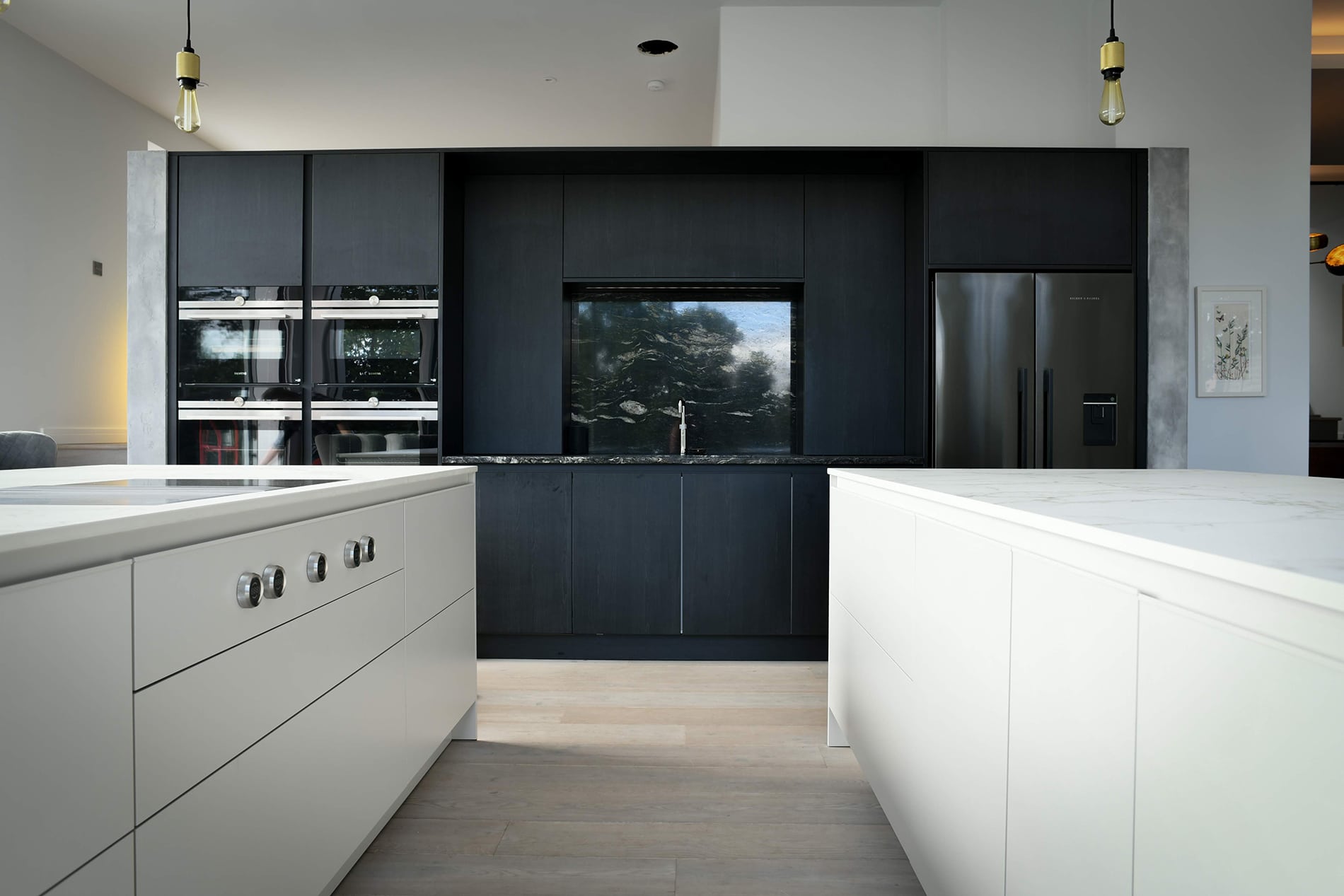 Clean lines and timeless quality
With three children and plenty of friends to entertain, our customer wanted a contemporary kitchen that balanced impressive style – to stand its ground in a large, open-plan space – with function and practicality for their busy lives.
From the start, they fell in love with the clean lines and timeless quality of the SieMatic handleless kitchens. After comparing with other manufacturers, it was clear nothing came close in terms of design and quality.
The islands in Sterling Grey form the centrepiece of their new kitchen, finished with stunning Dekton Entzo worktops. This is contrasted with a back wall in Onyx Oak and a Cosmic Black granite worktop and splashback, adding added depth to the design.
BORA Tepan plate
Cooking is at the heart of any kitchen – especially when you have three hungry children to feed! A hands-on BORA cooking evening was the perfect opportunity for the homeowners to get familiar with their options.
After cooking steaks on the BORA Professional Tepan plate, it was clear that the BORA Professional set-up was the only option. It now acts as the stunning centrepiece of their secondary island – a prime spot for entertaining guests, as well as family breakfasts, lunches and dinners throughout the week.
Framed cabinets
The gorgeous, double-height kitchen is flooded with light. But this does pose a challenge when it comes to framing tall cabinets within the space. Working with interior designer, we added chunky pillars at either end of the cabinets.
Anchoring the run within the kitchen, the stylish pillars are hand-finished in polished plaster, exquisitely flecked with gold by the talented team at RAW Finishes & Design. As well as anchoring the run within the kitchen, they create a striking backdrop and frame for the dark Onyx Oak cabinetry.
Functional and sociable for years to come
Installed from start to finish in June 2019, this modern, stylish kitchen certainly stands its ground in this beautiful Fulwood home. It combines functional features with a sociable design that can be enjoyed by all the family for years to come. Most importantly, it's exactly what our customers wanted.
"From stepping into the showroom at My Father's Heart, you could feel the quality, style and sophistication of the kitchens. We knew they would help us achieve our dream kitchen. The journey from start to finish was a smooth, effortless and importantly enjoyable experience.  They could not have been more helpful or patient.  We are proud to say we have a 'My Fathers Heart' Kitchen and can't wait to have family and friends share our amazing kitchen with us."
Project details
Client Name | Private
Location | S10
Kitchen cabinetry | SieMatic cabinets – islands in Sterling Grey and contrasting back wall in Onyx Oak
Worktops | Cosmic Black granite worktop and splashback with Dekton Aura worktops for the island
Appliances | BORA Professional Cooktop
At My Fathers Heart, we're dedicated to creating dream kitchens for homeowners. If you would like to discuss your project, we'd love to talk. Call us on 0114 2500 177 to arrange an appointment.