Photo credit: Dug Wilders
An island is perhaps the most versatile feature of the kitchen; it's used for socialising, cooking, many other creative activities and, probably more recently for many, working.
As the focal point of the kitchen, it should be designed perfectly to suit your needs and your lifestyle, yet look absolutely stunning.
So, when planning your perfect kitchen island, what should you consider first?
Think about why you want it. What is your island mainly going to be for?
A kitchen island for cooking?
If it's to cook, then consider having a hob on your island.
Downdraught hobs are becoming increasingly popular. They take away the need for an overhead extractor so that massively opens the space.
The leading supplier of downdraught hobs, BORA, claims 100% extraction at face level, meaning steam obscuring your vision is a thing of the past. BORAs also aren't as noisy as overhead extractors, a big plus when cooking as you can still talk and listen to others.
And what about a handy prep sink? They don't take up much space as they are narrower than normal sinks. They can be placed close to your hob and be used for a variety of things, such as, washing your food or, if there is a boiling water tap, filling your pans with hot water ready to boil.
Why not also add a herb garden for easy access whilst you are cooking? This can be a feature within the worktop or, on top.
By thinking things through in this way you'll make cooking more enjoyable and more inclusive as you are able to face people whilst you are making food, rather than staring at a blank wall!
A kitchen island for socialising?
Or are you a socialite? Do you want your kitchen to be the hotspot for social events?
If so, your island is the perfect centrepiece, and you wouldn't want anything obscuring the work surface. So, you'd need to plan your island differently.
In this case, put your hob on the kitchen perimeter, but consider using a mirror as a splash back so you can still look at your surroundings whilst you are cooking. By doing this and leaving your island worktop as one slab of granite, quartz or Dekton, with, no joints or cut-out, it looks fabulously sleek.
Designing your island this way makes it feel separate from the kitchen, separate from the cooking, and creates an inviting space for other purposes.
To make your island more social, consider creating a breakfast bar. With imaginative design, using an overhanging worktop or adding different textures in, oak or walnut, it can transform the whole feel of the room. Should the worktop be linear, curved or an 'L' shape? Each one creates a space for socialising.
For a really sociable feel, why not add a wine cooler? With easier access to a bottle of wine, prosecco, champagne, or beer whilst you are socialising with friends or family.
A kitchen island of contrast?
Once the footprint of your island is nailed it is time to choose the finishes.
You need to decide whether you want the island to be in a contrast colour to the rest of the kitchen or match. If you choose to go down the handmade route, then the world is your oyster for what colour you want to pick.
SieMatic has it's own colour palette to choose from, including wood laminates and veneers, metallics and ceramics. However, if you do wish to be bolder, then they have an assortment of colours to select from within the NCS colour range.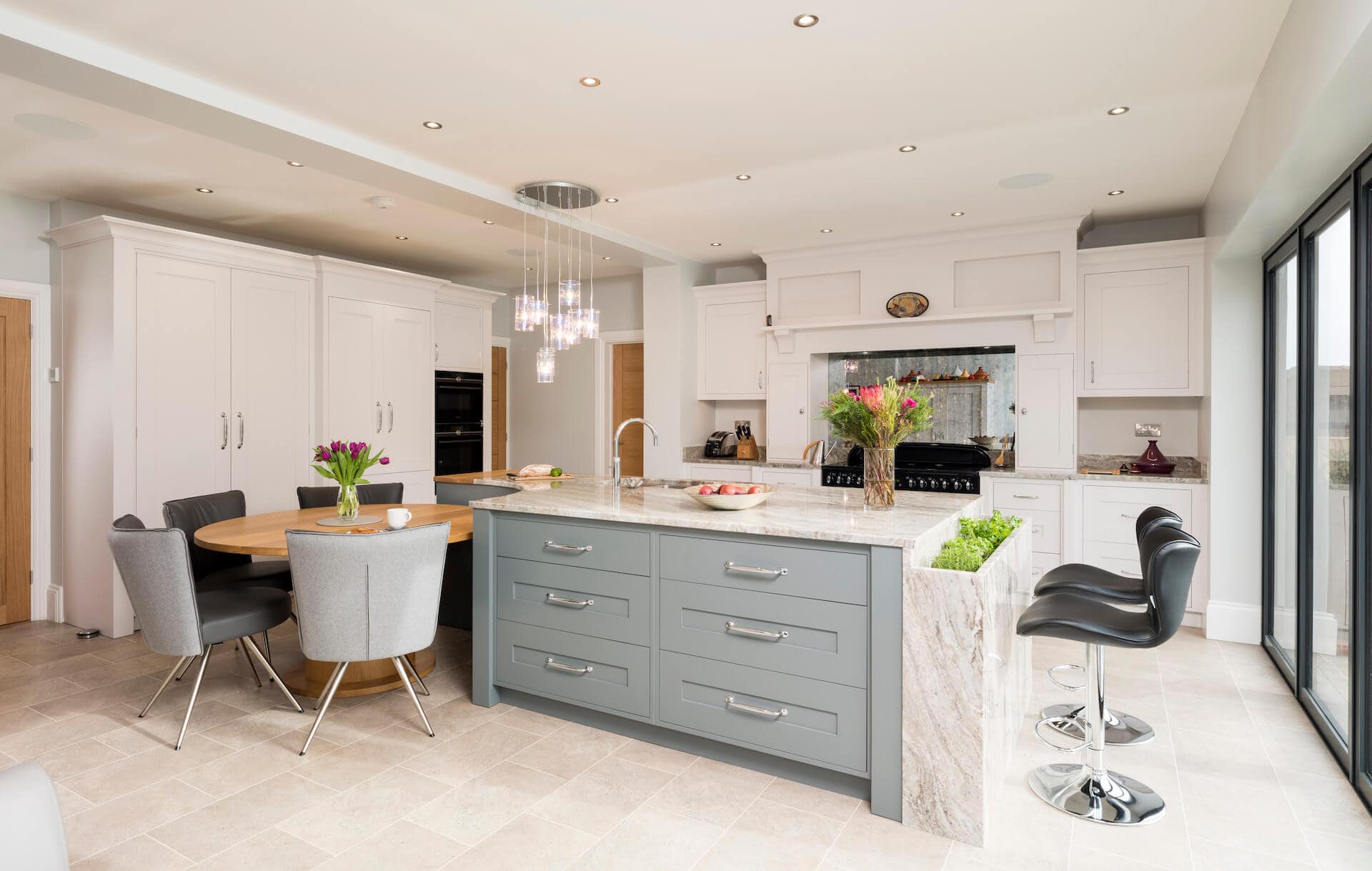 Anything is possible.
At My Fathers Heart, we plan without limits.
When it comes to design, we believe the possibilities are endless. So that includes designing your ideal island. Something unique for you and about you. That's how we quite literally make your dreams a reality.
Why not pop into our showroom? You can browse our different islands and book your wish list to start the process of designing your perfect island and perfect kitchen.