We are very excited to introduce V-ZUG to our range of appliances. Read on for a quick overview of this stunning brand's exclusive range.
A bit of background
V-ZUG are proud to be a Swiss- manufacturer. While relatively new to the UK market, they've been a well-loved brand in Switzerland since 1913.
Starting life as a galvanising plant, V-ZUG first moved into appliance manufacturing in the 1920s making laundry equipment. By 2001 the company was making the world's first combination steam oven.
Amazing 10-year warranty
V-ZUG focus on precision, design, and durability, which aligns perfectly with our quality standards. It's also why their confident to give a 10-year warranty on all their products. Furthermore, V-ZUG's replacement parts guarantee ensures their appliances will run efficiently for at least 15 years and their highly trained service technicians will always help in the unlikely event a problem occurs.
So we're delighted to have started  incorporating them within our designs.
Passionate about sustainability
V-ZUG is passionate about sustainability – another great match with our ethos. Since 2020 the company has been 100% carbon neutral and are currently working towards being carbon negative.
They achieve through various approaches, such as   having their own forestry project in the Scottish Highlands called V-Forest. In collaboration with the Ripa Gar Foundation, the V-Forest project has already planted 800,000 trees in an area equivalent to 700 football pitches. V-ZUG also fit heat pumps in their dishwashers, washing machines, dryers, and the unique Refresh Butler to reduce energy consumption.
Swiss-made
Although V-ZUG is a global brand, all products are proudly made in Switzerland with the famous Swiss precision fiercely ingrained.
Design aligned
Their range of ovens include steam ovens and combi-microwaves within three levels of specification, V2000, V4000 and V6000. And if you choose a top-of-the-range oven but need a more basic combi microwave oven to go with it, V-ZUG have designed the entire range with matching facias – in black, platinum or pearl mirror - so the two items look fabulously aligned in your kitchen , a feature unique to V-ZUG. And with their  handless option, just touch the door opening icon and the door will automatically respond, which means no greasy finger marks on the mirrored finish.
Preset recipes are standard, helping the less gifted cook to produce perfect meals every time and with 60cm and huge 90cm wide ovens… enough room to roast two chickens next to each other! V-ZUG has all bases covered.
Drawers fit for professionals
V-ZUG offer warming drawers, which we are all now familiar with and a vacuum drawer. Warming drawers are perfect for warming plates, keeping food hot, slow cooking, and dough-proofing.
But vacuum drawers take things to a professional level allowing the user to reseal and preserve batched cooked food. They can even be used to reseal jars and if you need to preserve that unfinished bottle of wine, the vacuum drawer can recork the bottle, preventing any unwanted oxidation.
Professionals prepare vacuum-sealed food for sous-vide cooking in a steam oven and, with V-ZUG's vacuum drawer, dinner parties and weekday meals can be batch prepared in advance.
It's a nice addition to the kitchen and one you will use more than you might expect!
Dishwashers - with you and your party in mind
V-ZUG dishwashers do more than just clean your dishes. They're developed with you in mind. Forget having to bend down to load and unload from the bottom drawer. With V-ZUG OptiLift the tray lifts to be at hip height. There is also a Party Mode on the dishwashers which completes a full cycle in 15 minutes.
Refrigeration
V-ZUG's wide range of refrigeration include 
the CombiCooler Supreme, allowing you to convert the bottom freezer section to a fridge.

climate control, keeping your food fresher for longer

sleek, contemporary, minimal stainless-steel facias

wine coolers with bespoke door fronts, at eye level if you wish and with dual temperature zones for perfect wine-tasting.
Exclusive - laundry care with V-Zug's Refresh Butler
And finally, we're delighted to introduce V-ZUG's world-exclusive Refresh Butler. With innovative technology, the Refresh Butler refreshes, sanitises and dries your most delicate garments, prolonging the life of clothes by maintaining their natural look and feel and can.
The Refresh Butler refreshes the garments by eliminating odours and removing 99.9% of bacteria using a patented photocatalysis system. It also removes wrinkles and creases whilst still protecting the texture and feel of the fabric.
V-ZUG'S Refresh Butler doesn't use any chemicals but uses a combination of UV light, steam and gentle heat… No ironing and no more dry-cleaning!
Each refresh Butler is individually handmade and is the perfect addition to a busy home!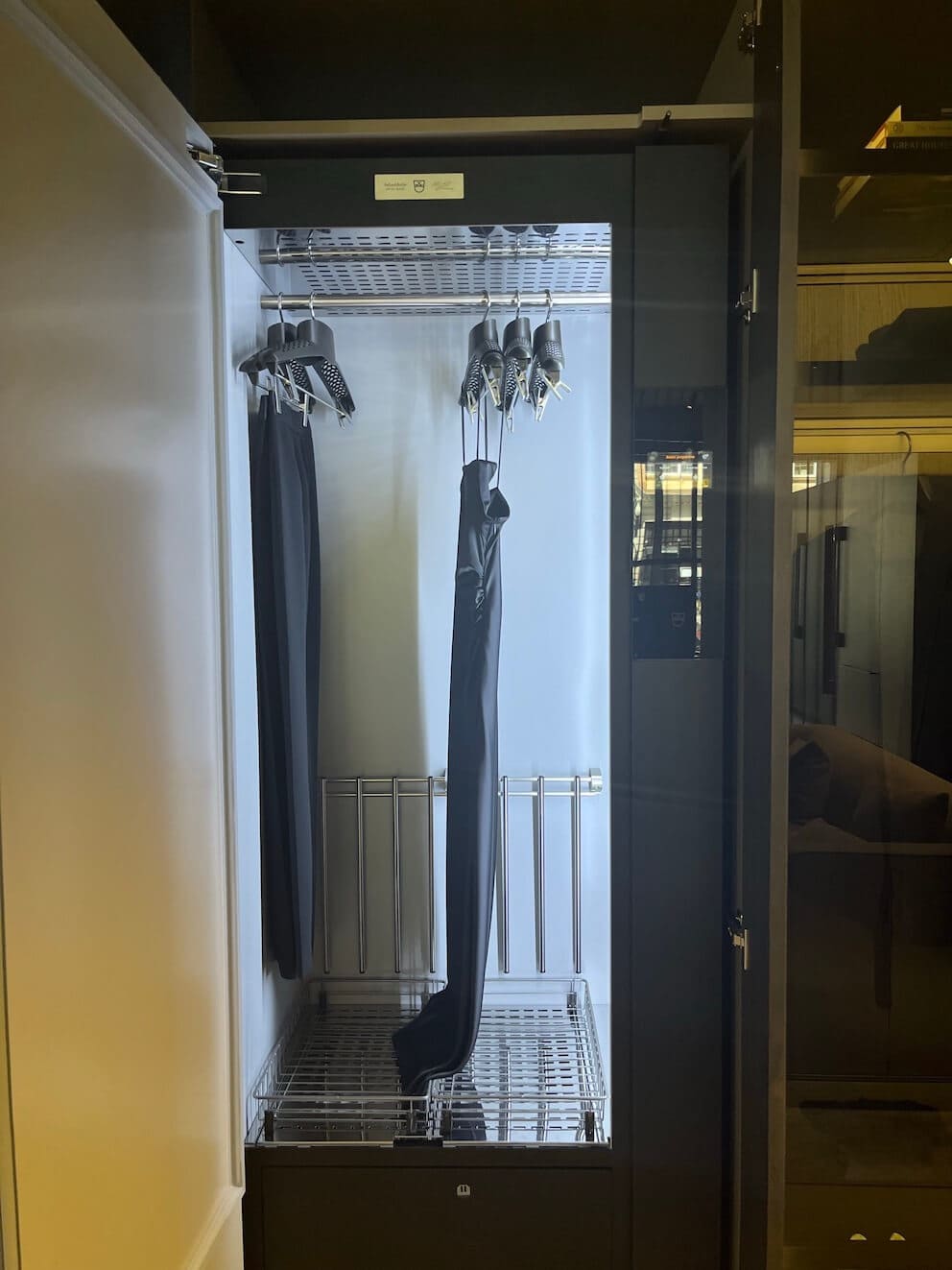 Experience the inspiring world of V‑ZUG
If we've whet your V-ZUG appetite, call us or call in to our beautiful showroom and see for yourself.